Today we have 6 new products to introduce you to that make for the perfect present to give yourself, or keep somewhere safe to wrap and put under someone's Christmas Tree.
This Week's Innovations Include:
🧯 A must have household accessory that can quite literally save your house or apartment from burning down

😴 A new, natural method for falling asleep fast and feeling better the next day (I need one of these ASAP!)

🎨 The ultimate learning tool to unlock the inner artist and painter in you

🏄 And a fun, new balance board trainer for better mental and physical health and performance
Let's get into it…
---
🏆 Grommet of the Day
StaySafe: These Makers Are on a Mission to Provide the Easiest and Safest Way to Extinguish Fires in Seconds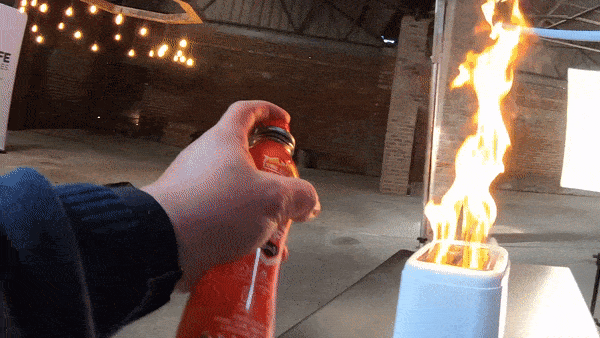 The Vision: LifeSafe Technologies is a company whose sole desire is to provide high-quality safety products for people all around the world. They do this to ensure that no one becomes a victim of a tragedy that could have been easily avoided. A major part of that mission is through designing innovative products for fire safety…
Anytime, Anywhere: Fires can start anytime and anywhere. Especially when we least expect them to. And even though everyone knows a fire extinguisher can help stop the flames from spreading, most people are still unprepared. Why? The average fire extinguishers are complicated, heavy, and are only designed for a specific type of fire. LifeSafe saw an opportunity to fix this and help anyone keep themselves and their valuables safe in the event of a fire…
StaySafe 5-in-1: StaySafe keeps you safe by eliminating the guesswork and hesitation from fire emergencies – simply grab their lightweight bottle and spray. That's it! StaySafe is easy to activate and quickly extinguishes the 5 most common types of fires in seconds. No pins to pull or heavy canisters to haul. It's the easy-to-use extinguisher that eliminates fire in seconds – worry-free! Perfect for home, the office, the car, or your weekend campsite.
Buy from LifeSafe Technologies

---

✨ Today's Life Hack
Today's life hack is for those who work at home, on the computer, or even at the office and want to get more done in less time. It involves tomatoes, an Italian man, and university studies…
In the late 1980s, then-student Francesco Cirillo created what's now called the Pomodoro Technique. While at university, Cirillo was struggling to focus on his studies and complete assignments. Feeling overwhelmed, he decided to commit to just 10 minutes of focused study time. In his mind, 10 minutes was not a huge commitment, and he figured it would be easy to concentrate for that long. So, he found a tomato (pomodoro in Italian) shaped kitchen timer and started to time his productivity.
What did he find? His productivity skyrocketed! Focusing on his studies became much easier. And his results on exams were better.
Why was it so effective? Timing yourself makes it easy to get started by breaking down big tasks that can feel overwhelming into smaller intervals. It also helps to combat distractions.
Ready to give this life hack a try? The process is simple…
Grab your to-do list and a timer. There are plenty of Pomodoro Technique websites with timers if you don't have an actual timer. Just type "Pomodoro timer" into Google.
Set your timer for 25 minutes, and focus on a single task until the timer rings.
When your session ends, mark off one Pomodoro and record what you completed and enjoy a five-minute break.
After four Pomodoros, take a longer, more restorative 15–30-minute break.
That's it! Give it a try and send us a message letting us know your favorite productivity tip or life hack?

---
😊 Community Corner
Trouble Sleeping? This Device Combines Yoga, Meditation, and Behavioral Therapy to Cure Your Restless Nights
Does your overactive mind keep you awake at night?

If so, you need to discover Dodow.

This simple device uses a metronome light scientifically designed to block out overactive thought patterns and lull you into a deep, peaceful sleep – fast.

Instead of staring at the ceiling all night, learn how to quiet your mind so your body can rest with Dodow. 
Interested in how Dodow can help you get to sleep quicker?

Hear firsthand how it has helped people like you to fall asleep faster…
"Like many insomniacs, I will try anything for a decent night's sleep. I have bought most of them and unfortunately, none have worked. I do NOT take any Rx medication but have used OTC stuff before. When I read about this thing, I thought why not give it a try? It is excellent for focusing your mind and controlling your breathing to help you fall asleep. It is relatively inexpensive and all I can say is GIVE IT A TRY. After all the other things I've tried this is my favorite." – George C.

"It took 3 nights, but on the 3rd night I slept just as well as I did with a sleeping pill. I always needed something to help me get to sleep because I can't seem to "shut my mind off" when it's time to sleep. And once I do fall asleep I tend to wake up after 5 minutes, and it's harder to get back to sleep. That hasn't happened yet using the Dodow. It's only been 3 nights, but I have high hopes that I'll be able to continue to use the Dodow and not have to resort to Sominex again." – Laurie R.

"For years I have had problems sleeping. It seemed like whenever I lay my head down, my mind kicked in. I tried pills, exercise, anything I could to get to sleep. I heard about the Dodow and thought I would give it a try. The blue light is actually soothing and the breathing technique helps for total relaxation. I can honestly say that I don't even make it through the 8-minute cycle before drifting off. I highly recommend this product for anyone who needs help shutting down at night." – Larry F.

Ready to stop having sleepless nights, or just quiet your mind to fall asleep quicker?

Check out this special offer from Dodow, which comes with a 100-day money-back guarantee.

See why more than 500,000 former insomniacs trust Dodow to get them to sleep.

Buy from Dodow
---
🔍 Featured Discoveries

Charcoal Grill Pizza Oven Kit: Turn Your Grill into a Real Wood-Fired Pizza Oven
KettlePizza charcoal grill inserts fit virtually any kettle-style charcoal grill to transform it into the ultimate pizza-cooking oven. Get that wood-fired pizza taste right from your own backyard!
RevBalance: The Balance Board That Works to Increase Your Balance, Strength, and Even Your Confidence

The 101 v2 Balance Board is a Grommet favorite and brings you back to the fundamentals of movement by bringing professional-level balance training into your home

Buy from RevBalance


Paint By Shadows Art Kit: Unlock Your Hidden Picasso with the Ultimate Way to Learn How to Paint

Each kit includes short, high-quality written instructions along with accompanying videos to make learning how to paint fun and easy.

Buy from Chirpwood


Miracle Detergent Sheets: Powerful, Eco-Friendly, Skin Sensitive Laundry Detergent That Doesn't Come in a Big Plastic Bottle

Miracle Detergent is a sleek sheet of soap that allows for better storage, no waste, and a powerful clean. 

Buy from Miracle Detergent Sheets
---
✨ Grommet's Household Hacks
3 Cleaning Hacks to Make Your Chores Faster
Use these hacks to save time, get a deeper clean, and get on with your day doing the things you love.


Unclog and Freshen Up Your Kitchen Sink Drain: Is your kitchen sink drain getting a little funky? If so, this simple trick will freshen it up in seconds. First, plug your drain and fill your sink with 2 cups of water. Then, add ½ cup of baking soda and 1 cup of vinegar. Once everything has been added, remove the drain plug, watch the mixture bubble up, and as it flows through the drain and into the pipes, it will clean everything it touches. The mixture helps to eliminate the fatty acids that likely gunked up your drain. Bonus: It will leave your drain smelling fresh and works as a natural bug repellent! 
Clean Your Blender Better: Smoothies are all the rage! And for good reason – they're a tasty way to get essential fruits and veggies into your diet. But after tasting the last drop of flavorful goodness and it's time to clean your blender, don't just fill it with water, let it sit in the sink, and have to scrub it out later on! Instead, squirt some dish soap into the bottom, fill it with warm water, place it back onto its motor, and turn it on for 20 seconds or so. The power from the blender will whip the soap around the container and give it a deep clean in under a minute. It's the fastest, easiest, and cleanest way to use your blender every day. 
Get Rid of the Nasty Garbage Smell: Sometimes, the garbage can smell bad. Who would have thought? But sometimes, even after you throw out the smelly trash, the garbage can itself keeps the odor running throughout your house. To combat this smelly plague (without having to go elbows deep into scrubbing the bottom of your can), take a few cotton balls and your favorite essential oil. Pour a good amount of oil onto the cotton and throw them into the bottom of the can before you put a new bag in. The scent will naturally rise to the surface, making your kitchen smell lovely once again.