Do you enjoy a glass of wine after a long day's work? What about pairing it with a lovely dinner? Or how about in combination with a hot bubble bath for the ultimate relaxation?
It's a great way to unwind and enjoy the night. But do you ever experience headaches or hangovers in the morning?
If so, you'll be excited to hear how this father and son team created a "magic" wand that erases wine headaches and other common reactions to wine.
Check out their story (and how their magic wand works) below…
🏆 Meet the Maker 🏆
The Wand: Meet the Father and Son Creators of a Magic Wand That Erases Wine Headaches and Hangovers
A Shared Passion: Dr. David Meadows, a PhD in chemical engineering and lifelong inventor, and his son Derek, a serial entrepreneur, share a passion for wine. They would pop open a bottle to discuss the aroma, the fermentation process, and how different wines would grip their senses, while sometimes leaving them with a splitting headache the following day. This last point would often become the center of their conversations…
Why Did They Get Headaches? Dr. David and his son Derek wanted to answer the question: Why did some wines give them such terrible headaches? It turns out the answer was simple (and found in every type of wine). Their headaches were from histamines and sulfites – chemicals found in wine that are a natural result of the fermentation process. They were found in every type of wine, from the cheapest to the most expensive. Understanding this, they wondered if it was possible to remove these compounds to eliminate their headaches…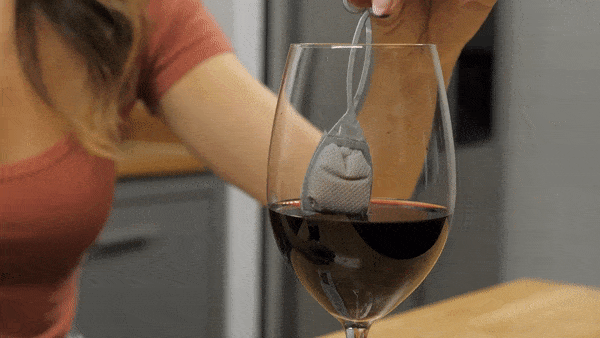 The Magic Wand: Together, they spent two years in the laboratory looking for a solution to the side effects of wine. The "eureka" moment came when David and Derek found the precise means to selectively remove histamines and sulfites without otherwise changing the chemistry of wine. It came in the form of a small filter they aptly named the Wand. The Wand's patented purification technology uses resin beads to absorb up to 95% of all sulfites and histamines from your wine while at the same time leaving in the antioxidants, phenolics, and tannins, which are known to help lower cholesterol, regulate blood sugar, improve heart health, and more. Now, you too can enjoy your favorite glass of wine – without the headaches.
How to Get Your Wand: With over 4,300 five-star reviews, the Wand is helping people enjoy their favorite glasses of wine without the annoying (and painful) side effects. And right now, readers of the Grommet can grab their very own 10-pack of The Wand for the low price of $24.99. Or buy 3 packs and get 2 free! Plus, they're offering free shipping when you order more than 1 pack! No wonder they have been a Best-Seller on Grommet for years.
---
✨ Today's Life Hack ✨
A Genius Way To Find The End Of A Tape Roll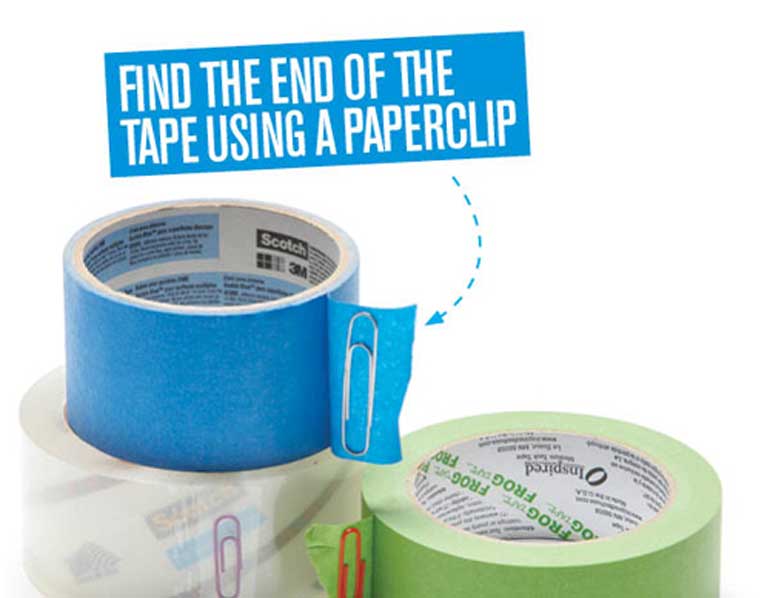 With gift giving season right around the corner, you're likely going to be wrapping a lot of presents and shipping out some packages to friends and relatives.
And with lots of wrapping comes – tape.
This life hack is going to make your holiday wrapping and shipping so much easier. Instead of fighting with the tape roll to find the end of the tape, just stick a paperclip to the end of the tape when you're done. This way you can always find the start of the tape roll instantly when you need to start using the tape again. It's simple, genius and saves you from that little bit of frustration from wrestling with your tape roll.
P.S. Looking for the perfect holiday gift? Grommet has got you covered. We have more than 200 incredible gifts to share with you in the 2022 Grommet Gift Guide. These gifts will make your holiday shopping easy and fun, while also supporting a small business owner and the Maker Revolution!
The Gift Guide goes live on November 1st. Make sure to keep opening these newsletters to learn more and get early access on our VIP list. 
---
🤝🏼😀 Grommet of the Day
Trigger Point Rocker: This Doctor Figured out How to Heal Your Back Pain in 10 Minutes – Without an Appointment
An Overcrowded Office: Doctor of Physical Therapy Aaron Fu has a busy practice. Every day he would see patients suffering from neck, back, and shoulder pain. Often, they'd come into his office as a last resort after trying to find relief with various ointments, creams, or even pain pills. Dr. Fu was always happy to provide relief to his patients. But after seeing so many people throughout the years, he thought there had to be a better way…
Relief…Right at Home? Dr. Fu had a theory: People would much rather have something they could use on their own whenever they felt pain, than spend money and time visiting his office. It seemed obvious to him, but at that time, there wasn't an effective way to relieve back pain that could be done at home. So, he went to work…
Relieve Your Back Pain in 10 Minutes: After providing relief for so many patients, Dr. Fu noticed there were similarities between each case. People who suffered from back pain felt better when he released their trigger points, which form when a muscle stays contracted for too long (mostly caused by poor posture), choking off its blood and oxygen supply and causing pain and sensitivity. By relieving those muscles, his patients' back pain disappeared. To do this at home, Dr. Fu created the Trigger Point Rocker. By lying down on his device, you apply deep pressure to your trigger points, massaging the tissue to allow oxygen and nutrients to flow freely back into the muscle. This 10-minute process gives you safe, effective relief from your back pain.
Fast, Safe, and Effective: If you suffer from poor posture, sit awkwardly for too long in front of the computer screen, or experience back pain that doesn't seem to stop, the Trigger Point Rocker is the simple solution that works. With just 10 minutes a day, you can save time and money and feel better with Dr. Fu's physical-therapist-recommended device for complete back pain relief. And right now, Grommet readers can save $50 on Trigger Point Rocker by buying directly from their site. 
---
🔎 Featured Discoveries 🔎
Our favorite new products from makers who are inventing new products to make our lives a little better. Check them out and support the makers by purchasing directly from them.
Negg Egg Peeler: Make Peeling Your Hard-Boiled Eggs Fast, Easy, and Fun
Skip the struggle of trying to peel a hard-boiled egg – instead, separate it from the shell with ease! 
CreaClip: Experience a Salon-Quality Haircut without Leaving Your Home
Use this clip and the included video tutorials to ​​preserve the great-looking layers, length, bangs, or bob you had when you left the salon.
Scuba Jack Gratitude Journal for Kids: Teach Kids the Power of Gratitude 
Teach your kids how to cultivate an attitude of gratitude by using this powerful journal to track what and who they're thankful for – every day!
LovinCustom: Unique Personalized Gifts for Special Occasions
Celebrate any occasion by placing your own designs on LovinCustom's full line of homeware, such as blankets, pillows, picture frames, and more! 
---
🗣️ Maker Quote of the Day
"Hope and curiosity about the future seemed better than guarantees. That's the way I was. The unknown was always so attractive to me… and still is."  – Hedy Lamarr
Some of our most popular Grommets of all time are powered by Bluetooth and WiFi technology. But did you know that the start of this technology dates back to the 1940s?
Hedy Lamarr was an Austrian-born American film star. She became a pioneer in the field of wireless communications when she co-developed the Secret Communications System to combat German forces in World War II. Her technology manipulated radio frequencies at irregular intervals between reception and transmission. It was put into use in the 1960s by the U.S. Army and helped pave the way for wireless technology now utilized by WiFi, Bluetooth devices, and even cell networks.